MINING
Nvidia: Crypto = Kryptonite, More Downside Ahead, Sell Now (NASDAQ:NVDA)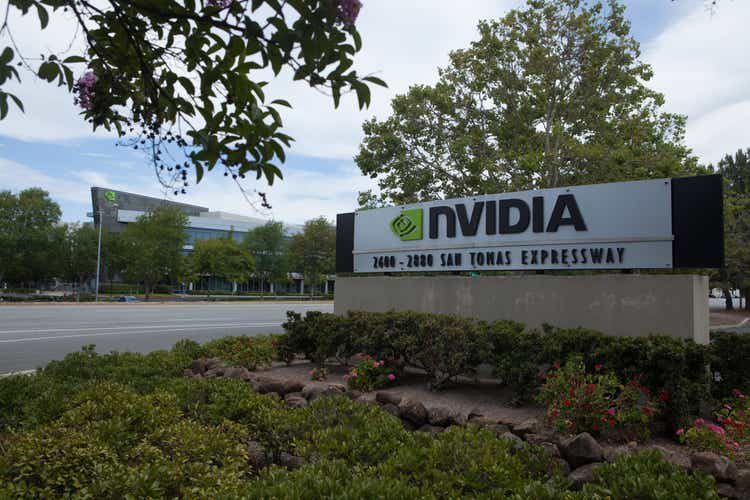 We maintain our earlier sell rating on Nvidia (NASDAQ:NVDA). Our bearish thesis on NVDA is very straightforward: NVDA's GPU sales are crashing because of its high exposure to the crypto-mining industry. NVDA enjoys dominance in high-end GPU markets but is facing demand headwinds. We attribute the dropping GPU sales to weakening demand from crypto-miners due to Ethereum's switch from Proof of Work (PoW) to Proof of Stake (PoS). Under PoW, GPUs are needed to mine Ethereum, but with the transition to PoS, crypto-fanatics will no longer need NVDA's GPUs to mine. We do not expect NVDA to rebound meaningfully in the near term and recommend investors sell the stock before it drops further.
Crypto-mining-related GPU sales are leaving the picture.
We called out NVDA's exposure to crypto-mining GPU demand back in April. NVDA's recent preliminary results confirm our predictions that GPU sales will drop. NVDA founder and CEO Jensen Huang stated that NVDA's GPU sales have "declined significantly." Preliminary results predict NVDA's gaming revenue to fall 33% year-to-year and a hefty 44% quarter-on-quarter. The following graph outlines NVDA's negative pre-announcement for 2Q23.

We estimate NVDA's crypto-mining exposure at around $1.5-1.8B per quarter. We expect more downside ahead as Ethereum makes the complete switch to PoS. Management continues to deny any crypto exposure. In the recent preliminary announcement, CEO Jensen attributed the lower GPU sales to "macroeconomic headwinds." We believe management is beating around the bush and attempting to hide crypto exposure under current consumer demand headwinds. We believe GPU sales will continue to drop. We expect further downside in gaming sales and spot market dipping to lower prices.
The following graph outlines the company's one-year stock performance.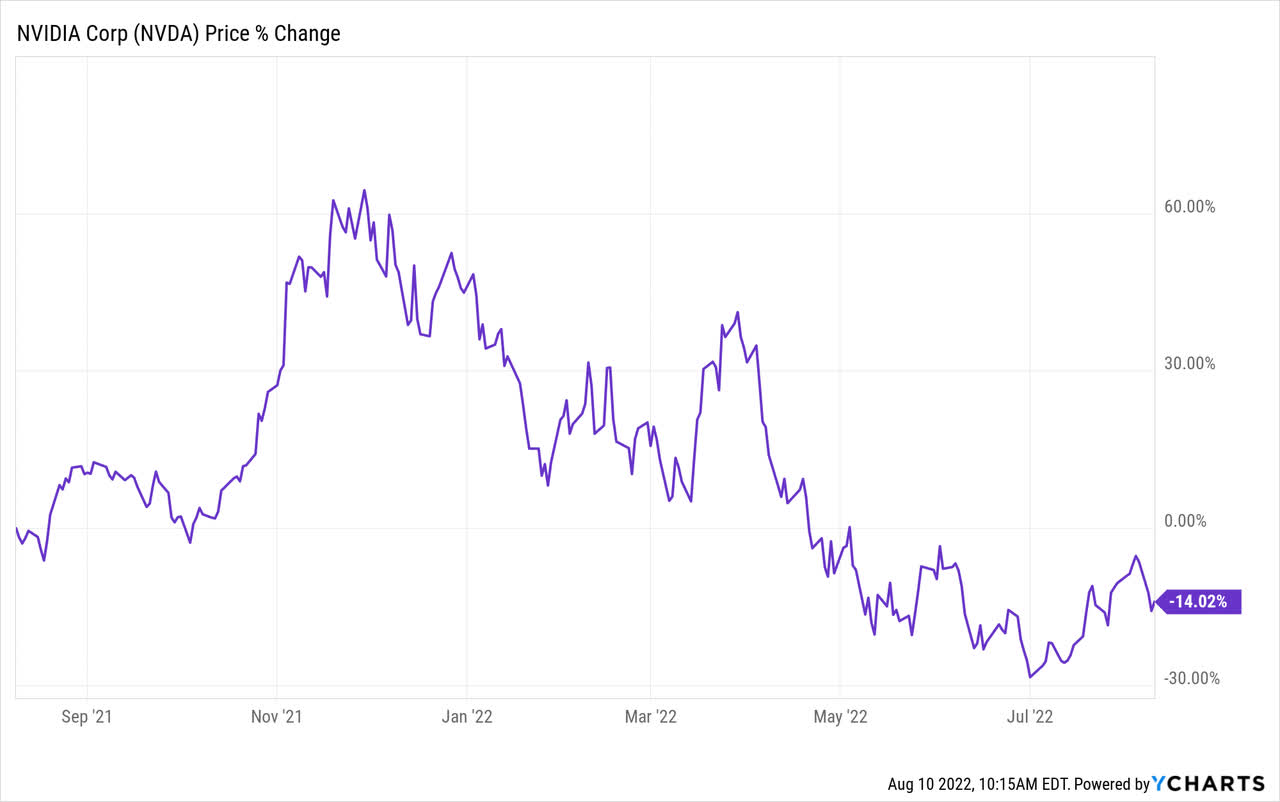 Datacenter segments are not safe from weakening consumer demand.
Data centers are taking the lead as NVDA's growth driver, but we believe this segment will decline, too. Data center revenue is up 1% sequentially and 61% from last year. While the 1% sequential growth is significant compared to the negative growth in the gaming segment, we are still not impressed. We believe data center growth is moderating, specifically in comparison to NVDA's May results, in which the data center segment achieved 15% growth sequentially and 83% yearly. The data center's preliminary revenue is $3.81B, below the company's original expectations. We believe the weakened consumer demand for smartphones has created weaker consumer demand for cloud services and, by extension, data centers.
Valuation:
NVDA is not cheap. The stock is trading expensively at 31.7x C2023 on the P/E basis EPS $5.40 compared to the peer group average of 15.4x. On EV/2023 sales, the stock is trading at 11.8x compared to the peer group average of 4.5x. We believe NVDA's revenue and EPS are at risk due to the company's heavy GPU exposure to crypto-mining. The company's valuation does not reflect the upcoming revenue decline and drops in GPU sales. We do not expect NVDA will be able to rebound anytime soon and recommend selling the stock at current levels.
The following chart illustrates Nvidia's peer group valuation.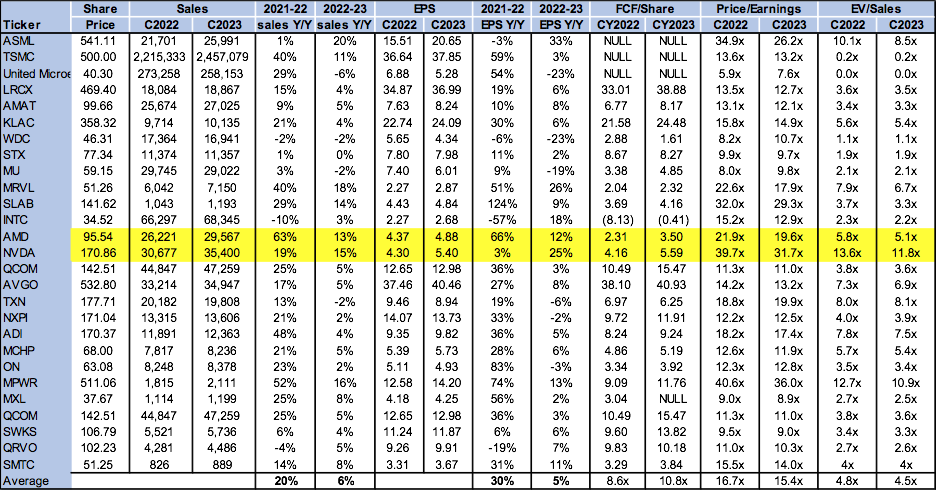 Word on Wall Street:
Wall Street is a strong buy on NVDA. Of the 46 analysts, 37 are buy-rated, and nine are hold-rated. The sell-side ratings are also overly optimistic about the stock. NVDA is currently trading at $171. The median sell-side price target is $224, while the mean is $232, with a potential upside of 31-36%. We think there is more downside on the stock than the market is pricing it in. The following chart illustrates the sell-side ratings, price targets, and upside potential.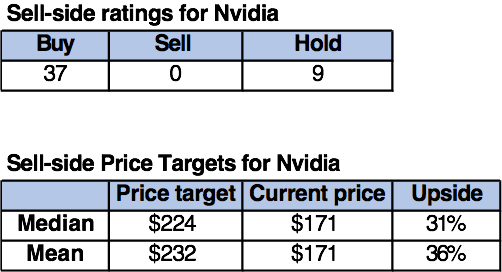 What to do with the stock:
We do not believe NVDA provides an attractive risk-reward profile. The company's preliminary results further affirm our low expectation for GPU sales coming forth. We believe a steep decline is unavoidable with the GPU crypto-exposure and management's continued failure to recognize the exposure. We urge investors to sell before more downside materializes.