METAVERSE
Top 3 Metaverse Crypto Coins With a Market Cap Below $20 Million to Watch in March 2022 – The VR Soldier
There are hundreds of Metaverse crypto coins on the market, each with varying valuations and prices. Some of the most popular options for new traders are low market cap Metaverse crypto coins since they have a significant chance of seeing higher price gains. This article looks at our pick of the top three Metaverse crypto coins with a market cap below $20 million, ordered by current market capitalization, lowest to highest.
#3 Cryowar (CWAR) – $15 million
Launched in November 2021, Cryowar is a leading Metaverse crypto coin built on the Solana blockchain. Cryowar is made with Epic Games' Unreal Engine and integrates NFTs as in-game assets.
Cryowar combines the latest blockchain trends, including DAOs, NFTs, DeFi, and more, to bring an immersive experience to its players.
Cryowar is still in its early stages, but the team completed its first round of the closed beta version of its game and is planning for another round soon.
CWAR is the primary utility asset on the platform featuring a deflationary supply. CWAR is also rewarded to users as part of the platform's play-to-earn model.
CWAR is a must-watch in March 2022 as one of the top Solana-based projects. With a current market cap of $15 million, CWAR is highly undervalued; when the full game is released, Cryowar could see significant price gains.
You can purchase CWAR on KuCoin, Raydium, MEXC, and more.
#2 Mogul Productions (STARS) – $16 million
Launched in April 2021, Mogul Productions is another highly underrated project that saw significant price gains of over 60% this week.
The platform features a launchpad for filmmakers and entertainment professionals, focusing on enabling users to submit their movie scripts and get them funded to make a full-fledged movie.
In addition to the funding launchpad, Mogul Productions includes a DeFi platform and a global NFT dashboard. Users can browse NFTs from high-profile Hollywood icons and buy them on Moguls' official marketplace.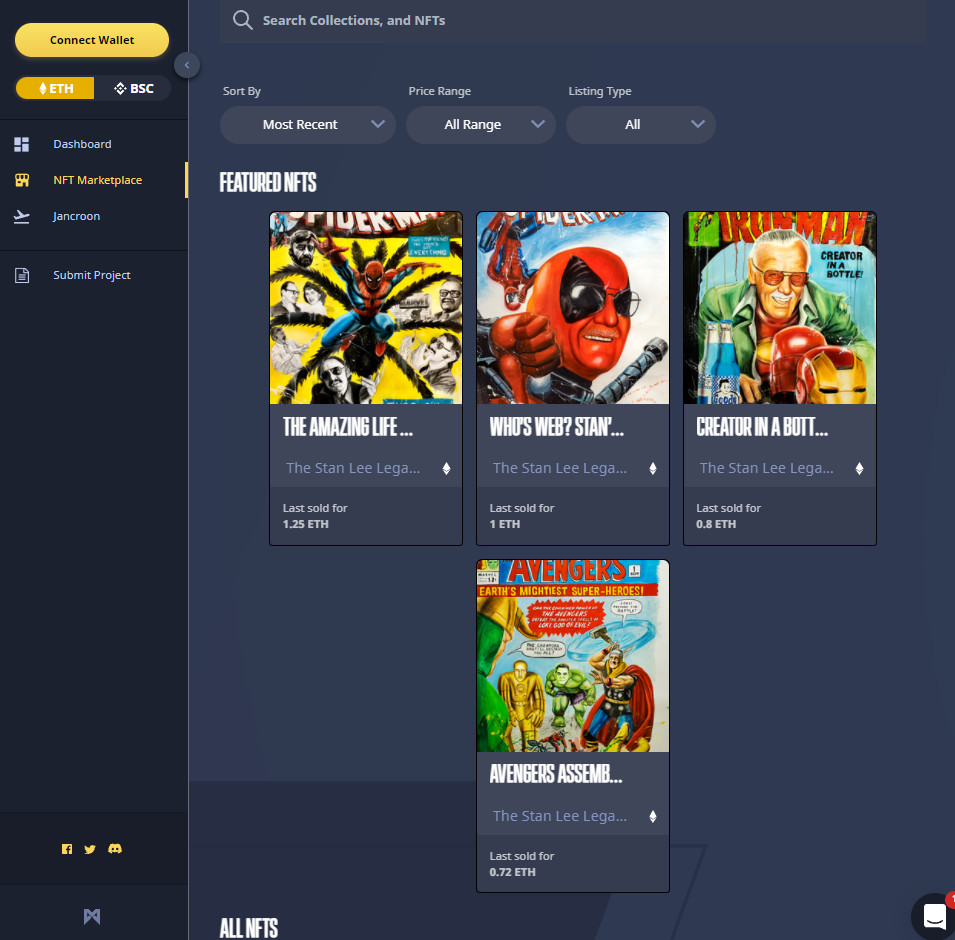 If you're a fan of movies and Hollywood, we highly recommend checking out the Mogul community. You can also become a Mogul yourself by signing up to the platform and receiving notifications of the latest NFT drops.
Moreover, Mogul Productions includes major partners such as CEEK VR, ApeSwap, Polygon, and Chainlink, all significant players in the cryptocurrency space, making this project a must-watch in March 2022.
The primary utility asset on the platform is STARS. The token enables users to submit scripts to the platform, buy NFTs, and more.
You can buy STARS on MEXC, PancakeSwap, Uniswap (V2), LATOKEN, and more.
#1 Decentral Games ICE (ICE) – $16.5 million
Launched their token in October 2021, Decentral Games ICE is one of the tokens for the Metaverse killer app called Decentral Games. It's a virtual casino built on Decentraland that recently turned over $7.5 million in revenue over the past three months.
Decental Games is the most popular virtual casino in the Metaverse, enabling users to participate in a play-to-earn free-to-play poker game.
The platform includes a DAO that governs the virtual casino, powered by the DG token. Players can earn rewards by providing liquidity to the casino in the form of DG tokens and participating in the casino's DAO, which shapes its future.
Decentral Games' ICE Poker is free to play, but the catch is players must purchase an ICE wearable NFT to access the tables. ICE wearable NFTs are quite expensive, with the floor price currently at 1.43ETH on OpenSea (roughly $4.1k).
However, one option for players looking to participate in Decentral Games' ecosystem without spending a fortune is to visit their NFT delegation dashboard, which enables owners of ICE wearables to "rent" their NFTs to others for a much cheaper price.
There are quite a few reports of players making a significant income by renting NFTs and using them to earn rewards with ICE Poker, so if you're looking for a unique way to make a profit, we recommend checking ICE poker out.
ICE is the platform's primary utility asset, enabling users to interact with the Decentral Games' Metaverse and stake the tokens for rewards.
You can buy ICE on QuickSwap.
Disclosure: This is not trading or investment advice. Always do your research before buying any Metaverse crypto coins.
---
Also Read:
Top 3 Metaverse Crypto Coins With a Unit Price Below $0.05 to Watch in March 2022
Follow us on Twitter @thevrsoldier to stay updated with the latest Metaverse news!