HARD WALLET
Galaxy CEO Says Dollar Is Over In Financial Market Meltdown That Will Boost Cryptos
Cryptocurrency investor Mike Novogratz has predicted a bear market for equities, with cryptos benefiting from the opportunity to cash in on a lack of trust in global financial networks.
He highlighted the way the Turkish lira had lost 75 percent of its worth against the U.S. dollar in the last four years and the Russian ruble was down 25 percent against the dollar in just under a month.
Novogratz is CEO of Galaxy Investment Partners, which makes investments in cryptocurrency-related projects, and he reportedly told Australian Blockchain Week that he predicted a "really hard, hard, hard investing environment in stock," adding that he saw the U.S. Federal Reserve raising the rate for federal funds to "at least three, maybe four percent before they kill inflation."
He continued: "They have been buying securities, they haven't even stopped buying. So now they're going to stop buying them and they will start selling them — we take all that liquidity out of the space, you're going to have some major adjustments."
He predicted that stocks could fall by 25 percent more from now on.
"Bear markets are brutally hard to trade, right? They trade down, and they squeeze up seven, eight, 10 percent — and then they roll right back over it," he said. "So that makes it a really challenging equity investment environment."
He also said that the only way to kill inflation on the back of that was to create a recession, which was unlikely to happen with the current populist leadership of the U.S.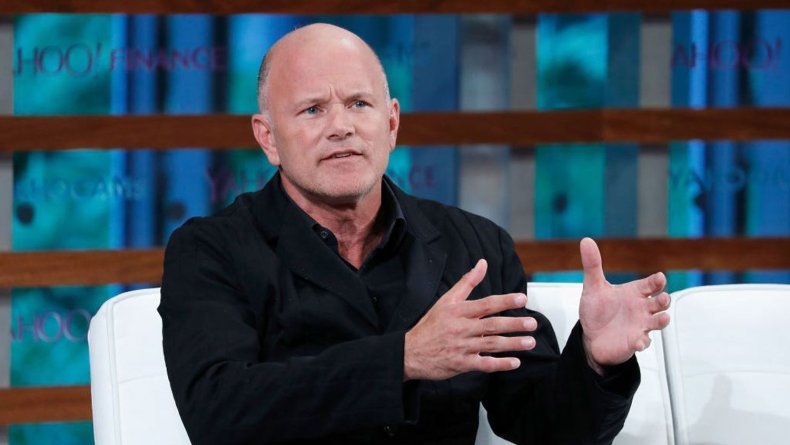 The CEO, who bought Robert De Niro's duplex in Manhattan's Tribeca neighborhood for $12.25 million in 2006, said that failure to act early to tame Bitcoin would leave it looking "better and better" — describing the cryptocurrency as a "report card on the stewardship of fiscal policy in our country."
He said people wanted to own crypto to serve as a hedge against that.
"They also realize the dollar is over, right? You can't have China say I trust the dollar anymore. That's shocking. The U.S. dollar is no longer a risk-free rate.
"It's certainly not risk-free if you're Russian. It's probably not-risk free if you're China."
He said the mistrust would only end up supporting crypto, as it doesn't need a government to trust, which made the outlook for crypto "really optimistic."
Ethereum was also praised by Novogratz, as it had become the "currency of culture," with its link to trading in NFTs.
He said that "we are going to have a lot of communities, you'll have a collection of tokens that represent your participation in communities that you care about, and you'll own them in your wallet."
He was being interviewed by Joe Kernen on CNBC's "Squawk Box," where he added that this did not mean they would replace currencies.
"I think it will be a store of value," he said. "Listen, Ethereum is already trading like a currency, right? It's the currency of culture. When people buy NFTs, they say 'how many ETH does it cost?' … And so, I think you're going to have this world where we have opt-in communities like people are opting in to the Bitcoin community. There are literally more people that own Bitcoin than live in Russia.
"They freely opted in and said 'we believe in this ethos of this community, which is a hard money way to store our wealth', and I think that will gain momentum as trust continues to break down.
"Listen, if Jay Powell and Janet Yellen can get our economy back to two percent inflation and have our debt come back because growth is so high and we go from 140 debt to GDP to 70, Americans won't have to buy Bitcoin, right?"
He added: "If you were in Turkey, you would feel pretty stupid having all your money in the Turkish lira.
"And so when there is bad stewardship of economies — which our stewardship has not been great, let's make no bones about it — Bitcoin provides a great alternative."
Novogratz, who sponsors the Beat the Streets NGO, which encourages wrestling as a sport in New York City public schools, at the end of last week challenged crypto critic economist Peter Schiff to a wrestling match on Twitter, when he objected to Ukrainian President Volodymyr Zelensky wearing a T-shirt during his recent appearance before the U.S. Congress.
Schiff wrote: "I understand times are hard, but doesn't the President of the #Ukraine own a suit? I don't have much respect for current members of the U.S. Congress either, but I still wouldn't address them wearing a t-shirt. I wouldn't want to disrespect the institution or the Unites States."
Which prompted Novogratz to reply: "After that comment I am ready to challenge @PeterSchiff to a cage match where profits go to charity of your choice. I'll donate to Ukraine relief. I'm just sick of your smugness Peter. The Ukrainians are fighting for their lives, their country and their freedom. Have some respect."