DEFI
What is Loopring DeFi protocol & its LRC token?
Blockchain technology seems to be evolving as of now. Ethereum's network is one of the most adopted but rivals like Solana and Fantom are also competing. Simultaneously, there are projects that use Ethereum's services but claim to provide better transaction speed and lower costs on their networks.
Some blockchain networks, including Ethereum and its rivals, have their eyes on the decentralized finance (DeFi) sector. Decentralized exchanges (DEXs) enable trade in cryptos with distributed ledger underpinnings, and these DEXs have become an important part of the DeFi sector. DEXs claim to settle trade on a public blockchain, which differentiates them from centralized exchanges like Coinbase.
What does Loopring do?
Loopring claims it is a layer 2 focused network that can provide better speeds and lower costs. It cites security and being a "gas-free lane" to compete in the DeFi space.
Also read: What is UFO Gaming metaverse, Super Galactic & its crypto?
The protocol claims it can settle over 2,000 trades in a second. Built using Ethereum, Loopring is betting on the layer 2 claim of lower gas fees as compared to layer 1 networks. The project includes the Loopring trading app that it says uses the in-house protocol and relayer. The app can enable asset swapping, trade, and liquidity management, the Loopring project claims.
Loopring is also providing wallet services for smart contracts.
Also read: Which crypto is cheapest in top 100 cryptocurrencies?
Loopring crypto
Loopring has its native LRC token similar to the native ETH token in Ethereum's network. LRC is used in the Loopring ecosystem to incentivize users, besides its role in the DAO mechanism.
Also read: Bloktopia: How many tokens does this metaverse have & what are they?
Loopring crypto price
Loopring, as of writing, had a market cap of over US$1 billion. It was among the top 100 cryptos in terms of market cap. The price of the LRC token was nearly US$0.8, which makes it a fairly low-priced crypto compared to BTC or ETH.
So far this year, the Loopring crypto has lost considerably. It started 2022 with a price of over US$2 but a downward slide brought its price to under US$1 by the end of January. Loopring's price hovered over US$3 in November 2021, which means it needs a sustainable upward movement to regain the lost ground. Loopring's price prediction seems very difficult in view of its subdued ride in 2022.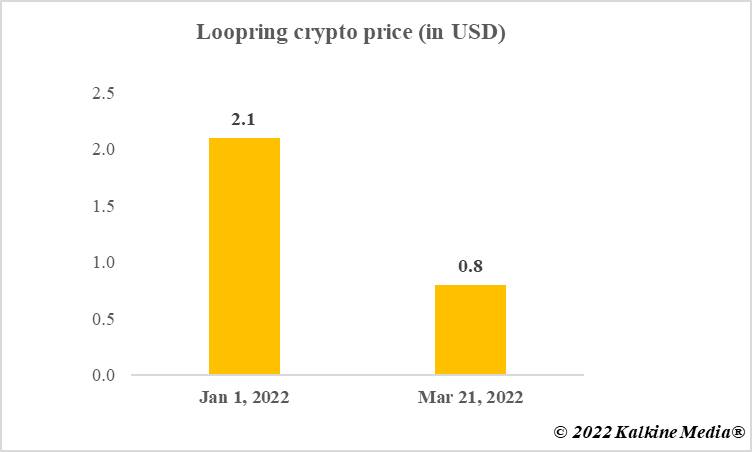 Data provided by CoinMarketCap.com
Also read: ApeCoin (APE) & Shiba Predator (QOM): 2 new crypto assets of 2022
Bottom line
The Loopring protocol is a participant in the DeFi sector. The protocol is using Ethereum to provide layer 2 services, which it claims are faster and more economical.
The project has its own DEX. It uses the LRC token to incentivize the protocol's users.
The LRC token has yet to manifest a gain since its price at the start of 2022, and the November 2021 price tag of over US$3 seems far-fetched right now. Though the token has a billion-dollar market cap and ranks among the top 100, it has remained very volatile.
Risk Disclosure: Trading in cryptocurrencies involves high risks including the risk of losing some, or all, of your investment amount, and may not be suitable for all investors. Prices of cryptocurrencies are extremely volatile and may be affected by external factors such as financial, regulatory, or political events. The laws that apply to crypto products (and how a particular crypto product is regulated) may change. Before deciding to trade in financial instrument or cryptocurrencies you should be fully informed of the risks and costs associated with trading in the financial markets, carefully consider your investment objectives, level of experience, and risk appetite, and seek professional advice where needed. Kalkine Media cannot and does not represent or guarantee that any of the information/data available here is accurate, reliable, current, complete or appropriate for your needs. Kalkine Media will not accept liability for any loss or damage as a result of your trading or your reliance on the information shared on this website.